Waiting for higher interest rates? It could cost you!
You already know that the interest rate your money earns plays a big role in how much you accumulate, but did you know that when you start earning interest may be just as important?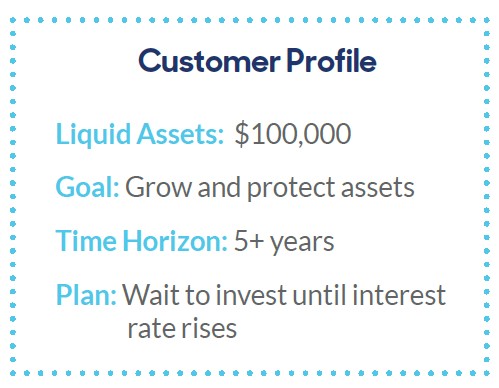 What can waiting cost you in the long run?
The following example shows how waiting just one or two years can have a big impact on the interest rate your money would need to earn to make up for lost time.

You can see that starting to earn 3.00% today will increase $100,000 by approximately the same amount as waiting to invest $100,000 at 3.75% a year from now or at 15.75% four years from now. Buying an annuity at current rates could be more beneficial than waiting to see if rates increase.
Contact your financial professional to learn more.
This information is not intended or written to be used as legal or tax advice. You should seek advice on legal and tax questions from an independent attorney or tax advisor. Guarantees included in annuity products issued by MassMutual Ascend Life Insurance Company are based on its claims-paying ability.
This content does not apply to the state of New York.
Have questions?
Speak with an annuity expert for no pressure, thoughtful insight to help plan a perfectly protected retirement.
Find a Financial Professional
More About MassMutual Ascend