Registered index-linked annuity renewal rates
Thank you for choosing MassMutual Ascend to help take your financial future above and beyond.
If your MassMutual Ascend registered index-link annuity is beginning a new term soon, you can use your renewal letter to find your applicable renewal rates below. To view your renewal letter online, simply log into your account.
Step 1: Confirm your product name
You can find your product name in the first paragraph of your renewal letter.
Step 2: Find your purchase payment year
You can find the purchase payment year in the upper-right corner of your renewal letter.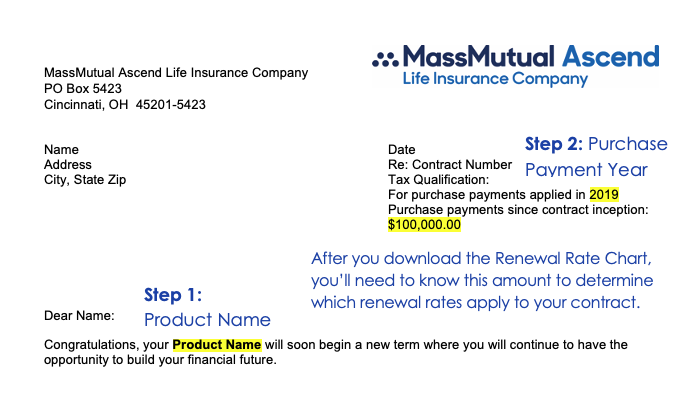 Index Frontier 5 Pro Renewal Rates

Index Frontier 7 Pro Renewal Rates

Index Summit 6 Pro Renewal Rates

Index Achiever Advisory Renewal Rates
Index Achiever Renewal Rates
If you'd like to change your strategy allocations for the new term, it's easy! Simply  log into your account or complete and return the form that was mailed to you. Allocation change requests must be received at least one day before the new term begins.
Principal Underwriter/Distributor: MM Ascend Life Investor Services, LLC, member FINRA and an affiliate of MassMutual Ascend Life Insurance Company.